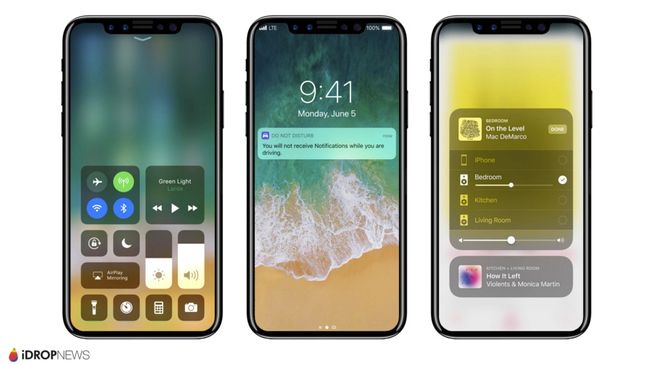 The iPhone 8 release date and price are only four days from being announced, as Apple is ready to confirm all of the rumours at its new campus in Cupertino, California. We have an invite to the much-anticipated September 12 event.
Apple's 10th anniversary iPhone will debut at the company's Steve Jobs Theater venue, a fitting stage for the announcement of a completely redesigned iPhone.
Before you get too excited about the new iPhone, you should know these two things: it'll be the most expensive phone you've ever bought and the release date may not be as soon as you've been anticipating.
What is the iPhone 8? The 10th-anniversary version of Apple's iPhone
What will the iPhone 8 look like? Huge screen, yet smaller glass body
When is the iPhone 8 release date? Late September or October 2017
How much will iPhone 8 cost? Up to $1,000 (£900, AU$1,250)
iPhone 8 launch: what to expect
How to watch the iPhone 8 announcement
Price and delays aside, though, be prepared to be wowed by a big visual overhaul of the iPhone you know and love. This is welcome news, as Apple fans have been awaiting a fully redesigned iPhone for several years now.
Update: The iPhone 8 looks certain to be coming in the new 'Blush Gold' colour according to a recent tweet. See our design section below for more info.
iPhone 8 leaks have been hinting at big changes, and Apple needs to match, if not outperform, the elegantly designed Samsung Galaxy Note 8. That's why we expect the iPhone 8 to be unlike any other iPhone that's come before.
Will it even be called the iPhone 8? Apple may call it something more significant, like iPhone Pro, iPhone X (to mark the 10th anniversary) or iPhone Edition, and launch it alongside the iPhone 7S and 7S Plus.
We're here to tell you which rumours we think are true, and what's merely wishful thinking from internet tricksters, from the likely iPhone 8 colours to the high iPhone 8 price. So let's review every major leak so far.

iPhone 8 release date: when will it launch?
Hottest leaks:
iPhone 8 keynote date is Tuesday, September 12
iPhone 7S & iPhone 7S Plus: September 2017 release date
iPhone 8: slightly later September / October release date
The iPhone 8 launch date is next Tuesday, September 12, at 10 am PT (1 pm EST, 6 pm BST, 3 am on Wednesday, September 13 AEST), with Apple hosting the launch event at the Steve Jobs Theater in Cupertino, California.
Its brand-new campus is ripe for announcing a new iPhone, and September has become the traditional month for a smartphone launch from Apple.
We're expecting three new iPhone models to launch at once
Apple has released a new iPhone in September every year since the iPhone 5 in 2012, although this year it may do something different in terms of the release schedule.
We'll still see Apple unveil the iPhone 8 at this September 12 event, but it may only ship the 7S phones initially, approximately one or two weeks after CEO Tim Cook first holds them up in the air. The Apple Watch 3 LTE and 4K Apple TV are expected to launch then too.
When will the iPhone 8 actually land in stores? It may be a little bit later due to reported production delays, which may be partly down to its new bezel-less screen technology.
October or November may be the official release date window, according to new rumours, though Apple's latest earnings call forecasts a strong quarter through to the end of September, which suggests we'll get at least some new iPhones before September 31, the end of its fiscal calendar.
TechRadar's take: The iPhone 8 launch date is officially Tuesday, September 12, but the release date hasn't been nailed down yet. Apple likes selling phones on a Friday, so we expect that date to be either Friday, September 22 or Friday, September 29.
There's now a good chance the iPhone 8 release date may slip into October due to production delays, and the late September release date will be left to the 7S phones. But you'll definitely have it by before Black Friday and Cyber Monday – if you can find it in stock before 2018.
iPhone 8 price: how much will it cost?
Hottest leaks:
Prepare for the iPhone 8 to cost at least $300 more in the US
Samsung's new phone costs $930, so Apple could charge $999
The iPhone 8 looks set to be the most expensive flagship phone ever
You're going to have to spend a lot of money to own the iPhone 8, and yet it's still likely to be sold out in under five minutes. Apple is planning an all-new smartphone design, and we're expecting a high iPhone 8 price to reflect that.
Current rumours suggest this model could start as high as $1,100 (around £845/AU$1,380), but we're estimating the price to be a little lower at a shade under $1,000.
That's good news, or bad news, depending on how you look at it. It's cheaper than some analysts have been predicting, but at $999, that would still make it 54% more than the iPhone 7.
The Samsung Galaxy Note 8 costs $929 in the US, £869 in the UK and AU$1,499 in Australia, while the Galaxy S8 Plus costs $825 in the US, £779.99 in the UK and AU$1,349 in Australia. This gives us an idea of what Apple could be thinking.
We're expecting that the UK – thanks to Brexit – will be one of the more expensive places to buy the iPhone 8, with contracts starting at around £50 per month at least for minimal data – here's what you should expect to pay for the iPhone 8 in the UK.
The price of Samsung's Galaxy Note 8 (which is AU$1,499) suggests that Aussies could end up paying over AU$1,600 to buy Apple's new premium handset outright.
Combined with a 24-month telco plan, your monthly payments are likely to start at somewhere between $90-120, depending on the provider, with Telstra almost certainly set to charge over $100 for just a basic amount of calls, texts and data.
AliExpress.com Product - PZOZ Lighting Cable Fast Charger Adapter Original Mobile Phone USB Cable For iphone 6 S Plus 5 5S iPad Air 2 iPod Touch i6 i5